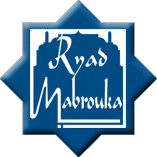 Meals at Ryad Mabrouka
A refined Moroccan cuisine
Breakfasts
Your stay includes a full breakfast, with a choice of breads and moroccan specialties such as "mlaouis" or "mille trous" (a local pancake) ...), tasty jams, honey, fresh orange juice, yogurt or white cheese, seasonal fruits and dates.
Dinners
Saïda, our cook, prepares a traditional Moroccan dinner with a different menu every day (tajines, couscous, pastilla...) at 240 dhs. It is served on the veranda overlooking the old city or in the garden. We also propose a "tajine & dessert" or "salads & tajine" menu at 180 dhs and a light menu with only salads and dessert at 130 dhs/pers.
Vegetarian cuisine is also available on special request.
Your hosts will also be happy to recommend restaurants either in the Medina or in the new city.


Ryad Mabrouka is part of the Gourmet Lodging selection for Morocco and participates to the "Fès Gourmet" event every year in March and November. During this period our guest can choose between the menu of the day or the special "Fès Gourmet" menu at 280 dhs.